If you're looking for a company that does pretty much everything under the sun, Sticker Mule is it.
They make a variety of customizable products—stickers, buttons, magnets, and so on—but they're also a software company with several design tools. And, they make hot sauce. No joke.
Viamonte Sherman is the VP of Technology at Sticker Mule, and he keeps the place running from a software perspective.
Besides managing the software team, he also makes sure that every other department is also looped in, and everything is aligned.
"If you think of a watch and all the gears it takes to make it work, my team is the gear that touches pretty much every other one—sales, marketing, CS, manufacturing, and so on."
Challenge
Before Canny, Sticker Mule's feedback channels were a combination of Slack messages, emails, and phone conversations. This caused important things to slip through the cracks.
In business, it's important to move on things—especially problems—fast. But problems can't be fixed if you don't know about them.
"Sometimes the message just wouldn't get across, and by the time we got to it, it was too late."
Even though the team made a good effort to consolidate requests and issues into one place, it was proving to be more and more time-consuming and complicated as time went by.
Documentation quickly became stale and irrelevant or unclear due to missing context/expertise. Communication was becoming a hodgepodge of different channels, and the upkeep was a challenge.
Besides making sure that urgent things don't go unnoticed, Sticker Mule also wanted to provide a better user experience for the customers who wanted to give feedback.
The team was looking for a tool that could fill the following requirements:
A single place for all requests, with the ability to sort through and prioritize feedback quickly and efficiently
An easy-to-use platform with a great user experience, to make leaving feedback and staying in the loop easy for the customer
Solution
It was Sticker Mule's CEO who originally discovered Canny, and figured it might be just what the doctor ordered. From there, setup began.
Viamonte was pretty impressed with the ease of the process.
"I remember thinking: 'Wait, that's it?!' We were ready to let people start using it practically the next day."
Since Sticker Mule had never used a tool like Canny before, they weren't sure if and how users would engage with it. Luckily, it took off right away.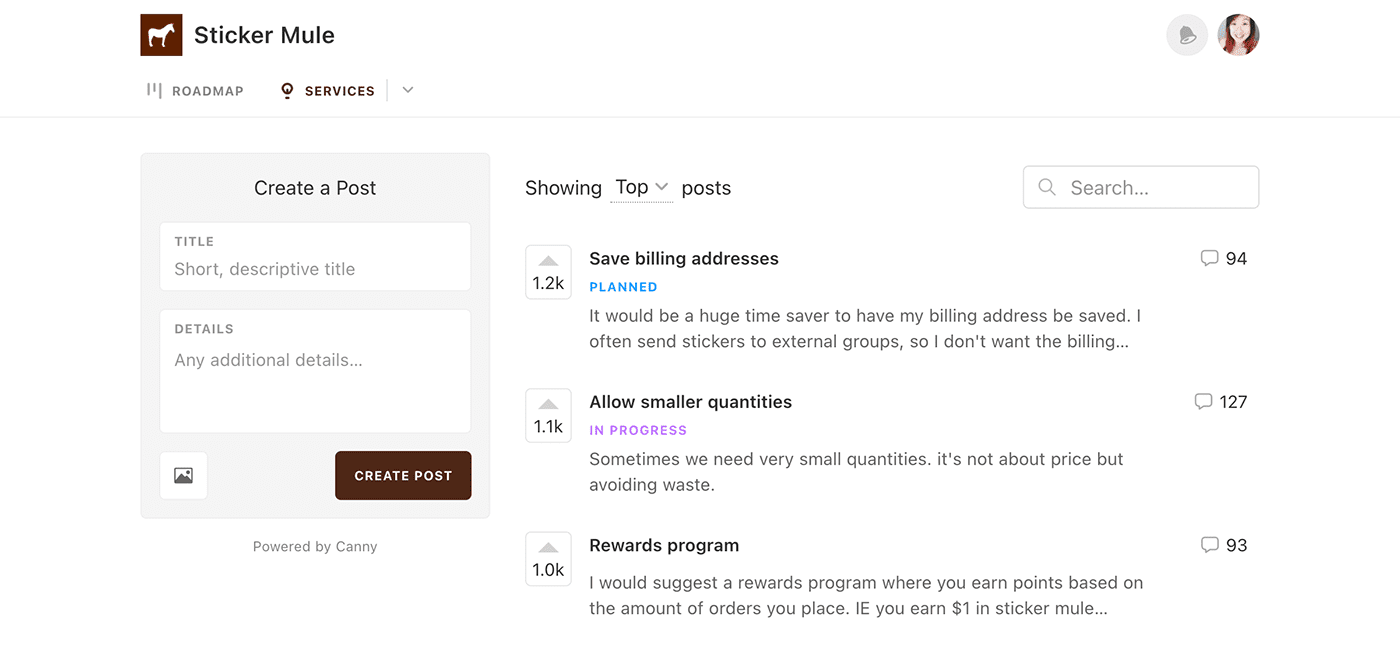 Viamonte attributes the high engagement rate to the ease of use that Canny provides.
"It's not difficult to use at all. The interface is great. It's not a big ask to tell someone to take a look. It's two minutes of your life."
Besides feedback from external users, Sticker Mule also has a private Canny board for internal conversations.
Canny has made combing through feedback easier than ever, and made sure that nothing is slipping through the cracks or going unnoticed.
Important things bubble to the top, and can be immediately prioritized.
"Customers love the communication from us as well, and knowing that their feedback isn't just going into a black hole."
Results
One of the clear benefits of Canny has been the ease of collaboration and communication that it provides for both the team and their customers.
Practically everyone at Sticker Mule uses Canny, from marketing, to the CEO, to the product team.
Everyone is aware of everything that's going on, and visibility has increased tremendously for both the team and the users.
When it comes to the internal Canny board, it has helped save time and energy when planning team meetings and having internal conversations.
"We have a weekly meeting where we all get together. Before, deciding on the topics for this was almost like pulling teeth. Now, we can all just suggest them, and vote."
Senior management also engages with the internal board often—it's proven to be a great source of suggestions for the company.
"We can take a look and say, 'This is an issue or an opportunity. Let's make a change."
As for the public board, the most important benefit has been unveiling big wins that weren't on anyone's radar before.
The teams at Sticker Mule track a bunch of KPIs that are all connected to revenue growth and productivity.
"I would say Canny has uncovered some big things that have added to both."
As an example, Viamonte recalls when the external Canny board helped them realize just how excited people were about a very specific product.
They had heard that people would like holographic stickers, but weren't sure what the demand really was. When they posted the idea on Canny, it exploded.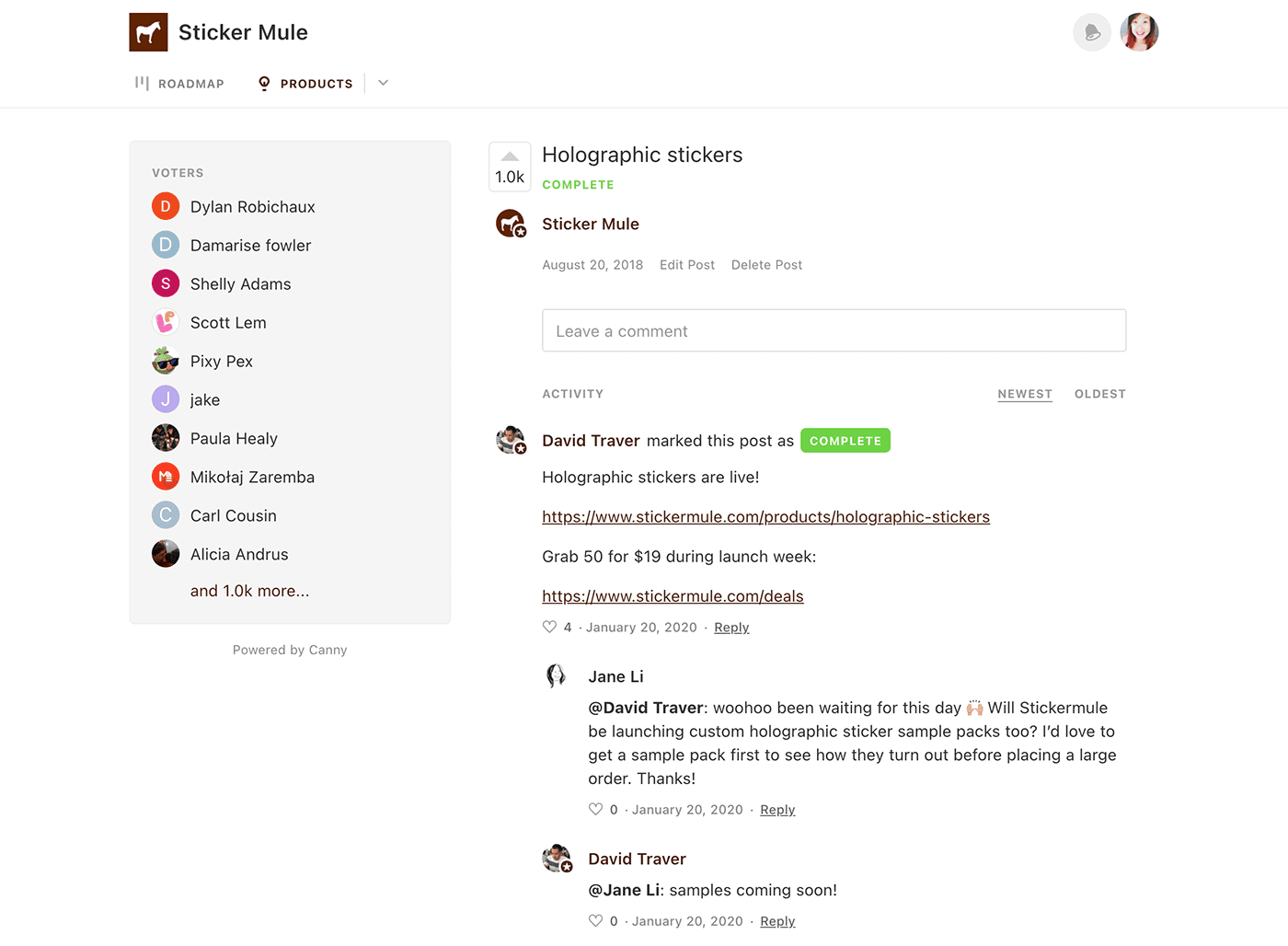 "We had no idea how juiced people were about them. And now we sell them."
Ultimately, Canny has helped the Sticker Mule team focus on what's really important for their business.
"Things bubbling up and becoming clear like that saves us money and time. And, how easy it all is saves the customer and team trouble, too."
The Internet's most kick-ass printing company.
stickermule.com