Missive is redefining email for SMBs (small & medium-sized businesses). At Canny, we've been using Missive for years and love collaborating through this app. Around 2,500 businesses around the world do too!
Philippe Lehoux and just six other team members at Missive make it all happen. Philippe admits that he's doing a lot – sales, marketing, product development, coding, customer support, and more. Naturally, there's a lot to do and very little time to do it all.
Challenge
An email client and collaboration tool like Missive gets tons of feature requests.
"There are probably millions of possible features. And each client has an opinion about what an email client should do."
With such a large volume of feedback, tracking and managing it all was getting out of hand.
"Before Canny, we had a spreadsheet. For each request, we had an email, a name, and a link to that request. Once we shipped a feature, we had to manually go through the list and follow up with each person who requested this feature. It just wasn't scalable."
What happens when a prospective customer requests a deal-breaker feature? With no system in place, Missive was losing those customers. Remembering to follow up with them once the feature is built was a lot of work.
Their time spent on customer support was also rapidly increasing.
Solution
Missive was looking for a way to automate these tasks and keep their customers happy.
"As soon as we came across Canny, it clicked for us. We were spending a lot of time simply replying to people: "Oh, it's a good idea, but we're not ready to do it." Canny really changed the game for us and reduced the amount of support we had to do."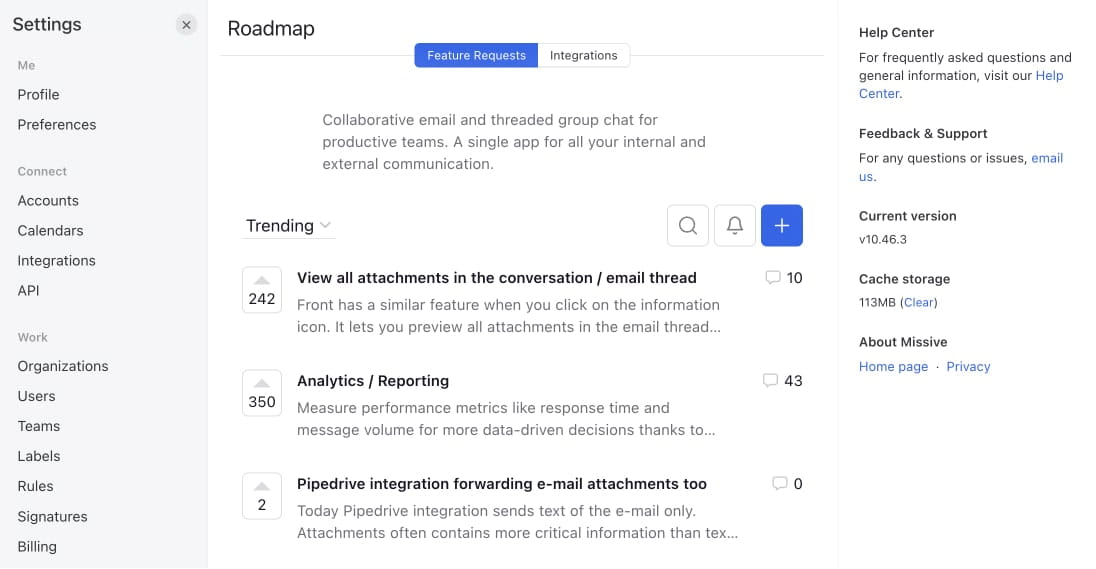 Philippe was a little hesitant to adopt Canny at first.
"I thought – if I redirect my users to submit a feature request, won't they feel offended that I didn't dedicate time to speak with them directly? But no, people are happy to suggest features in our community. They also engage in discussions among each other, and that really helps us understand their thought process."
Now, Philippe and his team are using Canny every day. They direct their users to submit feature requests, comment, and upvote others.
Missive also turns to Canny to guide their decision making.
"At one point I discovered that I could order feature requests by MRR. And that was quite amazing."
This customization lets Missive prioritize the most impactful features and ultimately decide what to build next.
Results
Philippe and his team at Missive see the value of Canny very clearly. They feel like they'd miss out on so many opportunities if they stopped using Canny today.
"We would have to either build the same thing ourselves or use something else (if it exists). But clearly, the value is there. Our customers love it. We've never had a single complaint."
Missive is happy to report great improvements in productivity and a reduced amount of customer support.
"Canny really helps us not just with feedback management, but also with decision-making. It pushes us to be more creative with what we're building next. Because, Canny helps us balance user ideas with our own input."
Philippe strongly recommends Canny because it's worry-free, simple, and just works. He notes its user-friendly design and how easy it was to set up. Most of all, Philippe loves all the time he's saving with Canny's help.
We're grateful for loyal customers like Missive and would love to have you join them too!
Give Canny a try!

Missive is the team inbox and chat app that empowers teams to truly collaborate around email.
missiveapp.com