GiveButter is on a mission to help nonprofits raise funds easier. Their platform centralizes donation forms, donation pages, events, auctions, donor management (CRM), email, texting, and more.
Jesse Sandala is the director of product at GiveButter. That means he's making sure that GiveButter is the best it could be. He does it by working with lots of different teams and, of course, managing user feedback.
Problem
From the beginning, GiveButter strived for product-led growth.
"We want to let customer feedback really drive our roadmap. Not only on small enhancements and changes, but also on our major features."
GiveButter's also focused on engaging with their customers. They want to make sure that they're building only the right features and not wasting any effort.
Finally, GiveButter needed to give their customers an avenue to share what's on their minds.
Solution
With Canny, GiveButter can really understand their customers.
"It's pretty cool when you see a request with lengthy back and forth. It means that people care, which is always a good problem."
Jesse uses that information and insights to:
Decide what to build next
Determine how to do it
Keep their users updated on progress
Announce updates through the changelog
The product team isn't the only one that uses Canny. GiveButter's sales team reaps the benefits, too!
"As the sales team is working with the prospect, they use Canny to add new requests and upvote existing ones on behalf of those prospects. That really signals to us that we should prioritize certain features."
The sales team also uses the Hubspot integration with Canny. They attribute deal and revenue data to specific feature requests and help prioritize them that way.
Results
In the fall of 2022, GiveButter introduced Auctions – a new tool that received over 600 votes on Canny! Since GiveButter launched this tool in September, they've seen even more engagement with their platform overall.
"Canny gives us a strong sense of what customers want – both on the big picture features and "quality of life" ones. The latter makes customers' daily usage of GiveButter easier and more efficient."
When Jesse's team started building auctions, they used Canny to not only see the number of votes, but also determine prioritization criteria.
"We assigned the effort score and strategic importance to achieve a more balanced ranking for our roadmap."
All of this groundwork helps with new feature adoption too – they can almost predict how well the new feature will be received. In a way, Canny helps GiveButter see the future. And, that's exactly what they did with their new Auction component. Pretty cool, right?
Today, Canny really helps shape the roadmap for GiveButter. It also helps the team keep their customers up to date on the progress and the direction of the product as a whole. For that, GiveButter uses Canny's Changelog tool.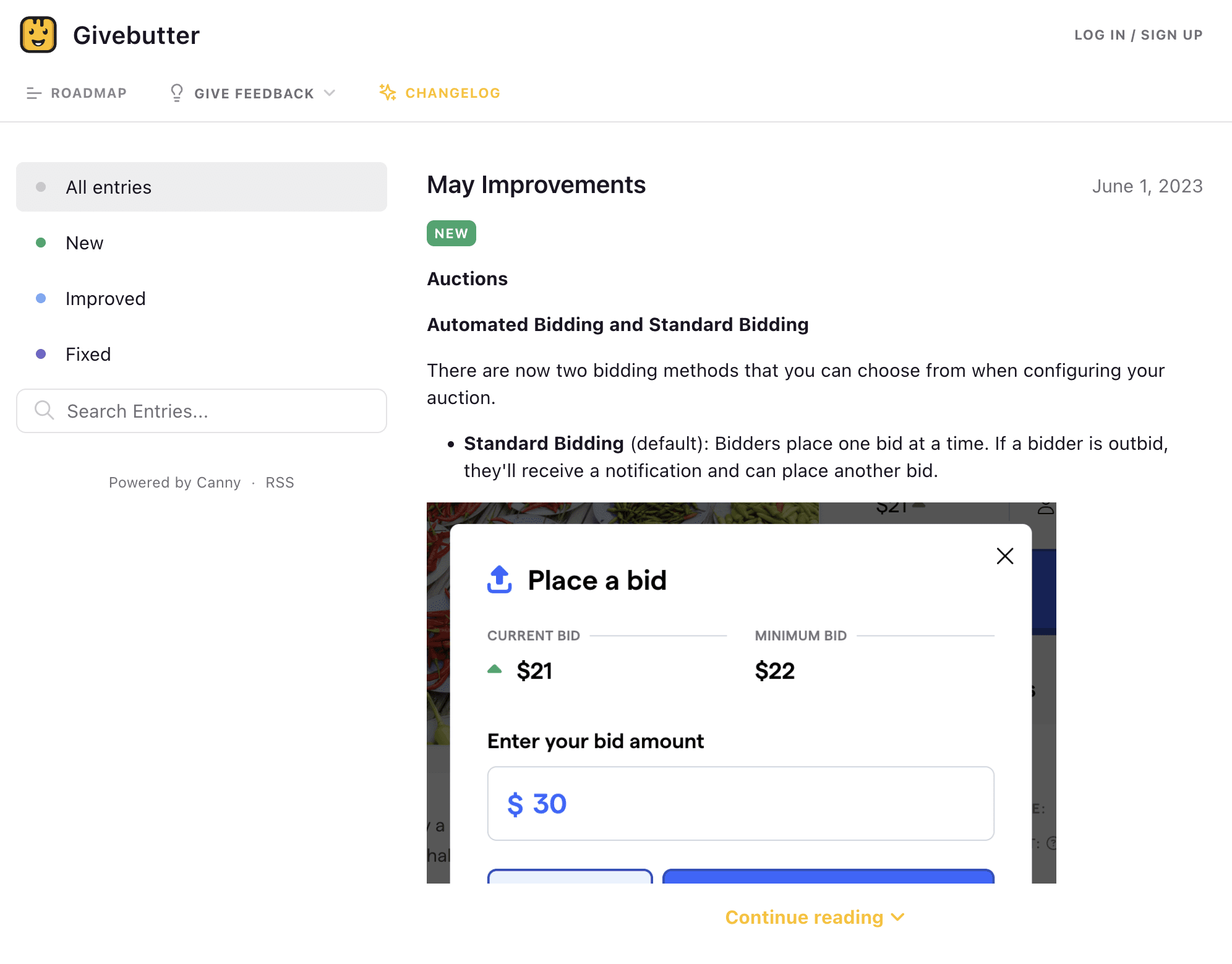 The team enjoys having a clear and shared vision, thanks to Canny.
Not just the team at GiveButter loves Canny. Their customers value it too.
"People always love it when something they've voted on or commented on is built. In Q1, our NPS score was 75, so this is a great indicator for us. Our customers know and tell us that GiveButter really listens."
We're happy to help GiveButter serve their customers better! And, we'd love to help you do the same.
Give Canny a try for free today and join awesome companies like GiveButter.
Givebutter is the most-loved nonprofit fundraising platform, empowering millions of changemakers to raise more, pay less, and give better.
givebutter.com