We flew 14 team members from 10 different cities to Tokyo. We spent 9 days together working, exploring, singing, and brainstorming. Here's what went down.
Why retreats?
Our semi-annual retreats have been at the core of Canny since the very beginning. Because we're all remote, we really need this quality time together. Over the years, we've noticed how much closer we all become after spending a week together in an unfamiliar place.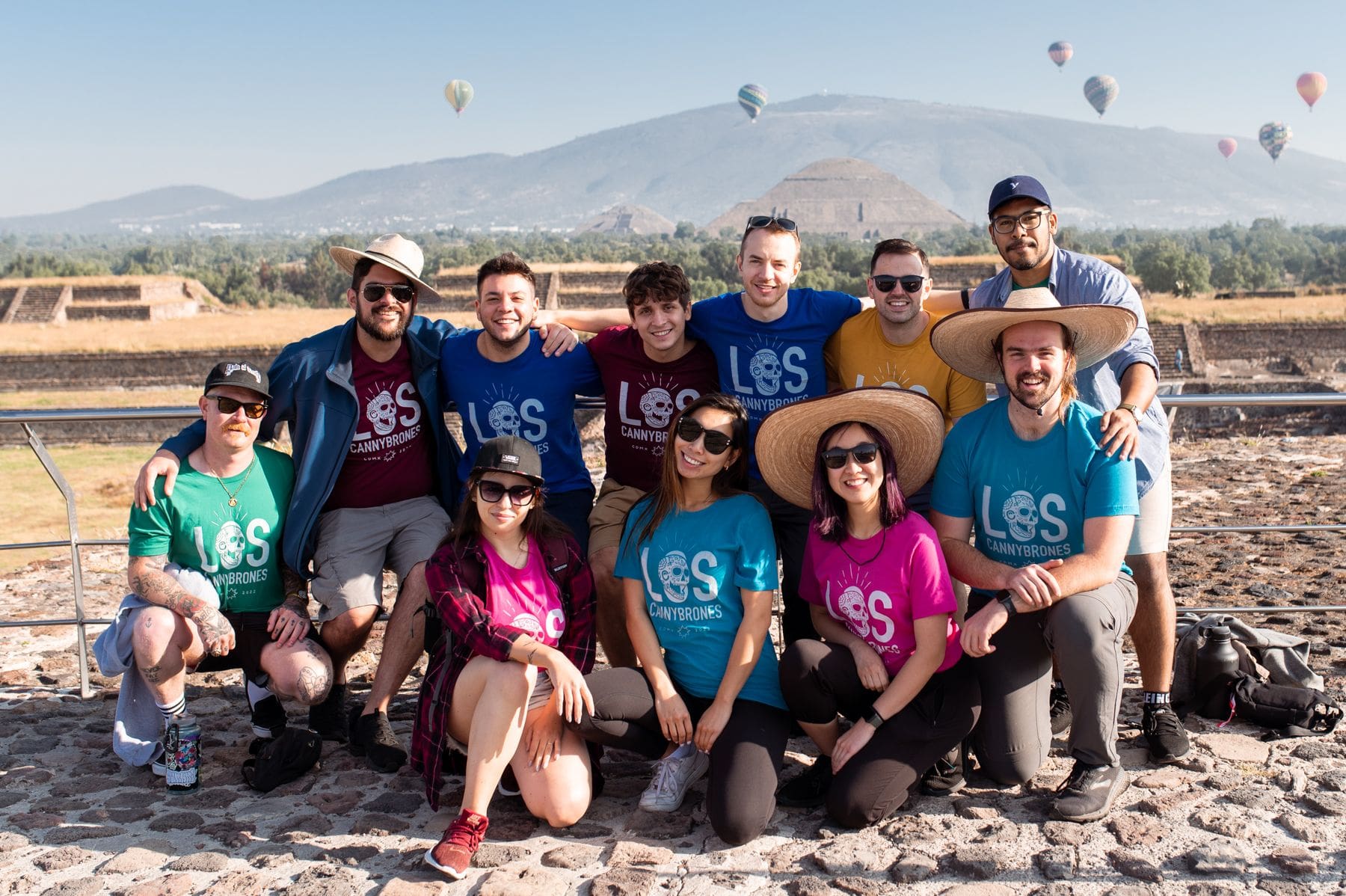 This retreat has been the most logistically challenging one yet.
Preparations
We always start planning our next retreat soon after the previous one is over. So, we started planning for a May retreat in Tokyo in November. We had to consider:
Visa requirements
COVID restrictions
Flights and layovers (we have team members in the US, Canada, Spain, Turkey, and the UK)
Accommodations for 14 people
Activities and meals
Costs for all of the above
So yeah, it was a task and a half. But boy was it worth it! Here's how we approached it.
How we made it happen
We started by assessing all the costs – of getting there and being there for 9 days. We tracked flights from each location (and scored some sweet deals!) and compared prices for hotels and Airbnbs.
Acommodations
We split the team by departments and booked 2 different Airbnbs (with 5 units in total). Luckily, they were only 5 minutes away from each other. This was very important to scheduling team meetings and hangouts together.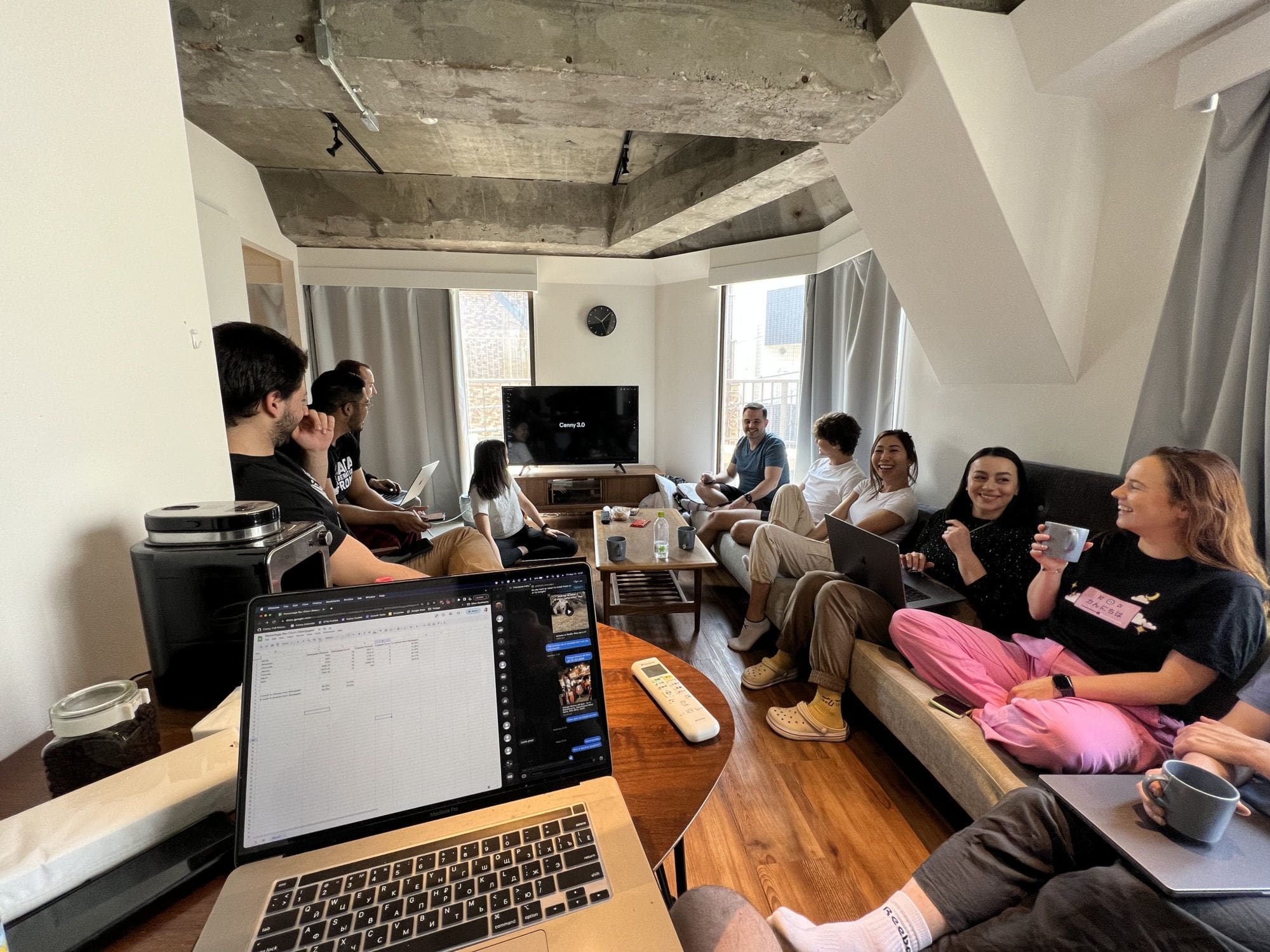 Meals and activities
For meals and activities, we tried to plan in advance. Getting a table for 14 people in a Tokyo restaurant is probably a lot to ask for, so we had to be resourceful.
As soon as we locked down Tokyo as a destination, we created a Canny board for ideas and voting. Yes, we used our own software for retreat planning. 😎
Anyone could submit ideas and vote on them. That's how we came up with a shortlist of things to do and see.
We also found and saved some highly-rated restaurants (using Google and Tabelog) in advance. Once we were there, we split into smaller groups to find tables easier.
We booked some activities months in advance – teamLab Planets Tokyo, the Ghibli Museum, and Urayasu Ooedo Onsen. Each of them was incredible!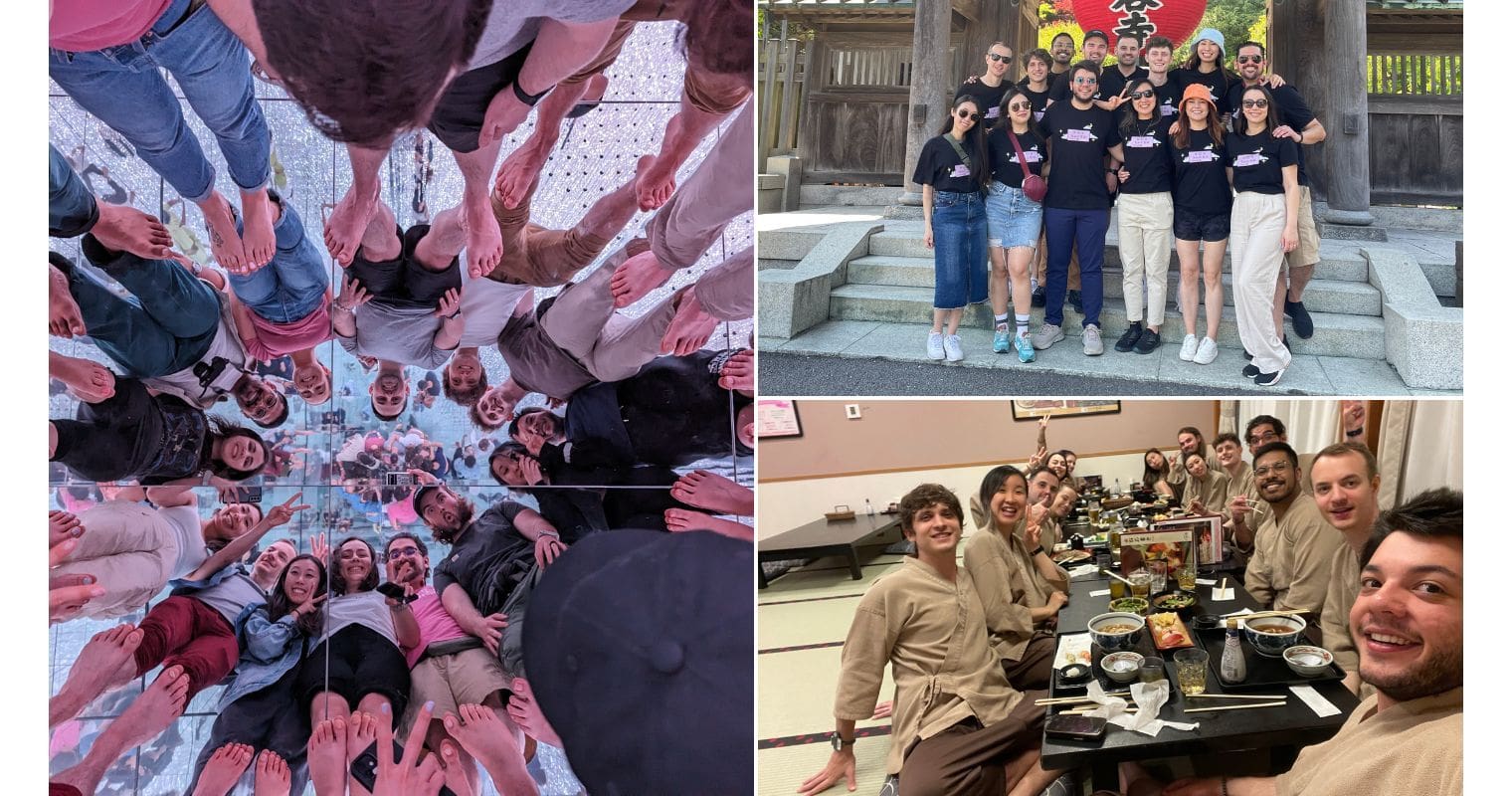 Important: every activity was entirely optional.
Our team is now quite big, so we had to consider everyone's preferences. It's very important not to leave anyone out, but also not to force people to do anything they're uncomfortable with.
We're lucky though – our team is usually on the same page, and we all vibe very well together.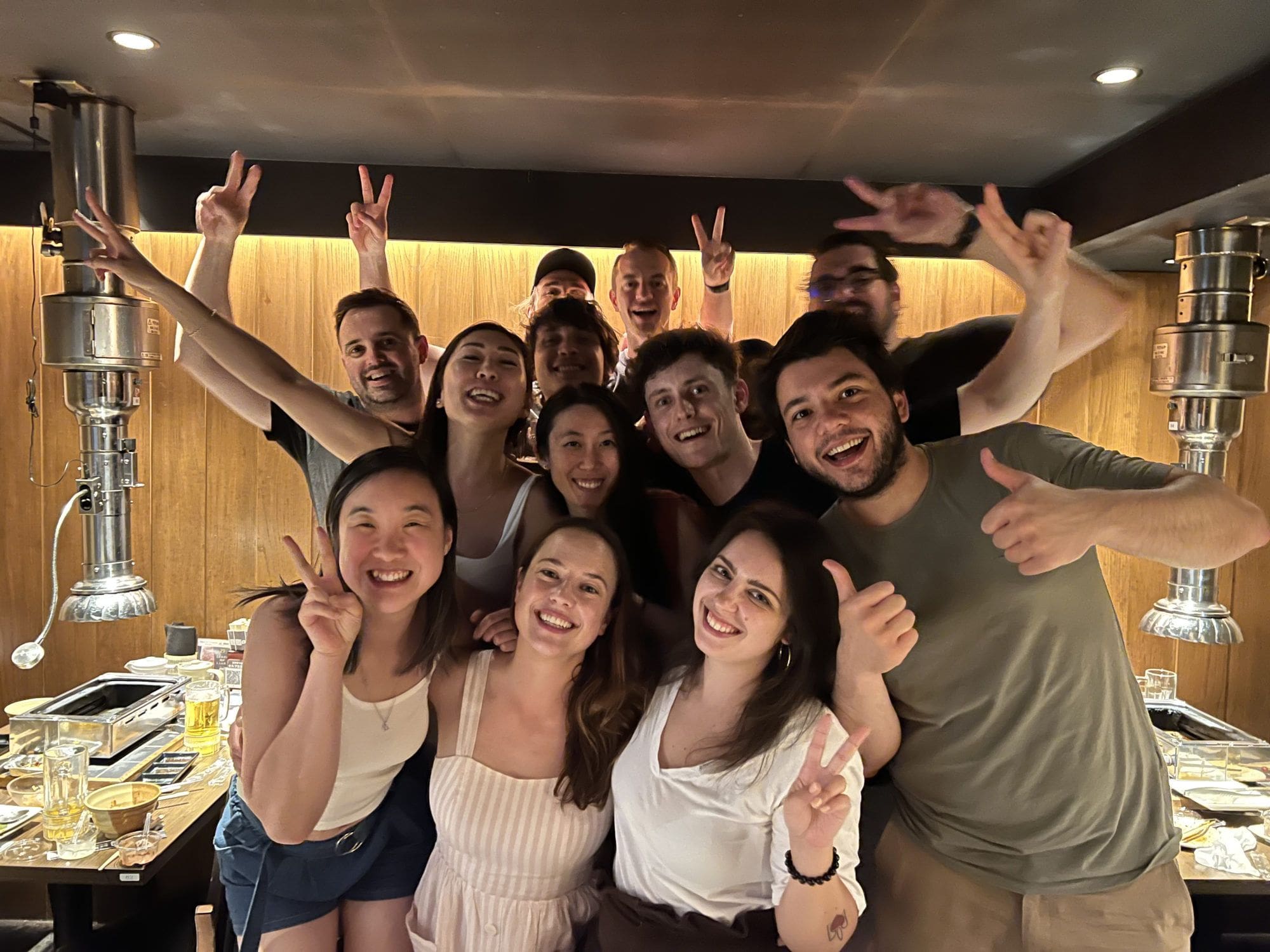 Finally, we had a Notion document with some FAQs and important information about Japan. We wanted to ensure that our team understood the culture and that we were prepared and respectful.
Exploring Tokyo
After all the planning, we finally arrived in Japan. A few of us landed earlier to explore beforehand. And, some of us stayed later to keep exploring.
The team met on May 11 and found our way to Komagome – that's where we were based for the next 9 days.
We chose this area because it's:
Quiet
Has a subway station
Has lots of food options
Close to key attractions
As we waited for everyone to arrive, we got some Japanese snacks from 7-Eleven and just hung out.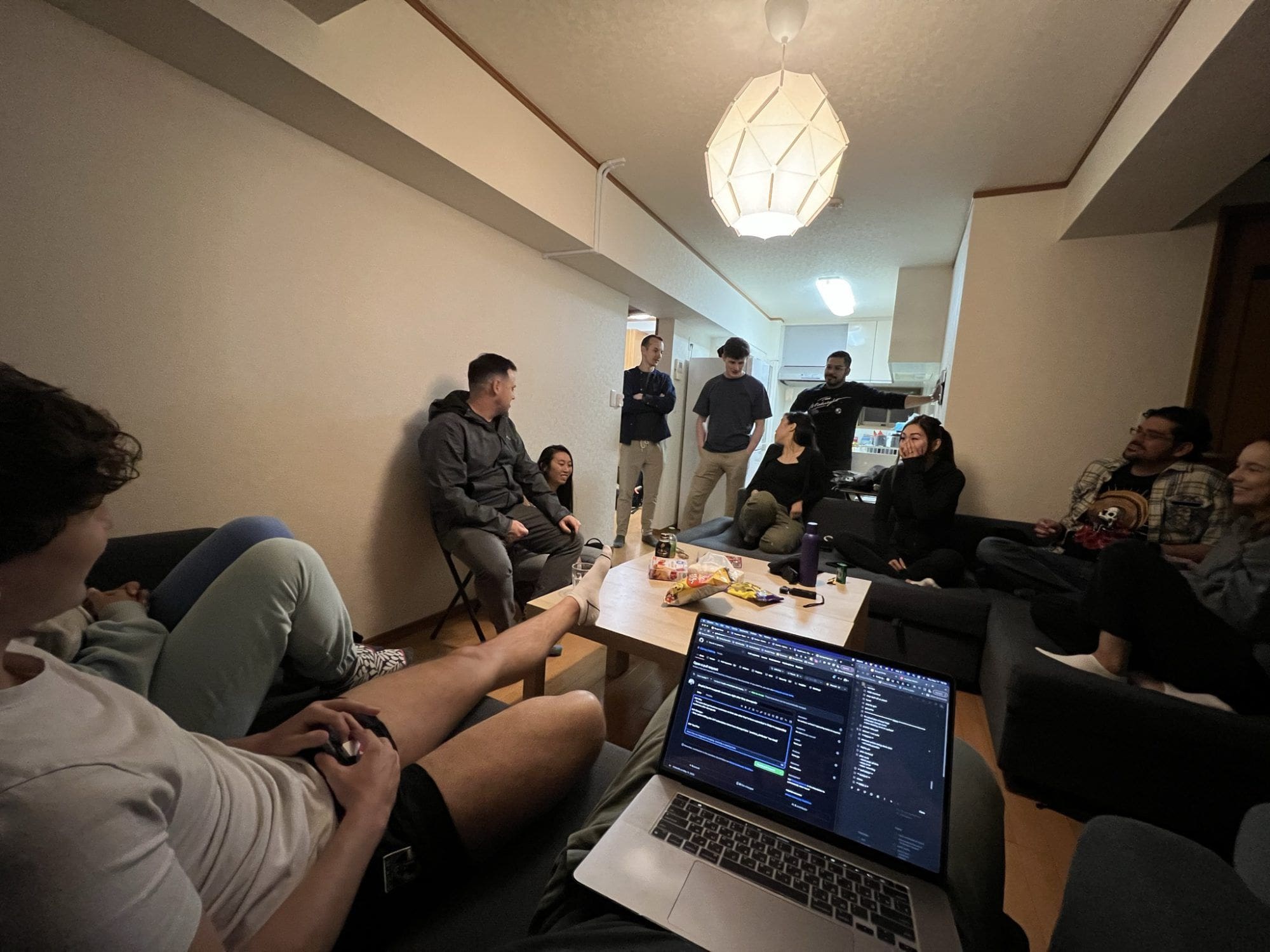 During these 9 days, we saw a lot. In particular:

Inokashira park
Ghibli museum
Shibuya
Akihabara
Karaoke 2x
Urayasu Ooedo Onsen
teamLab Planets Tokyo
Arcades
Kamakura
Cat cafe
Shinjuku
We got some rainy days, so we swapped weekends and weekdays to make the most out of this trip.
We tried all the Japanese food we could find and made many memories together.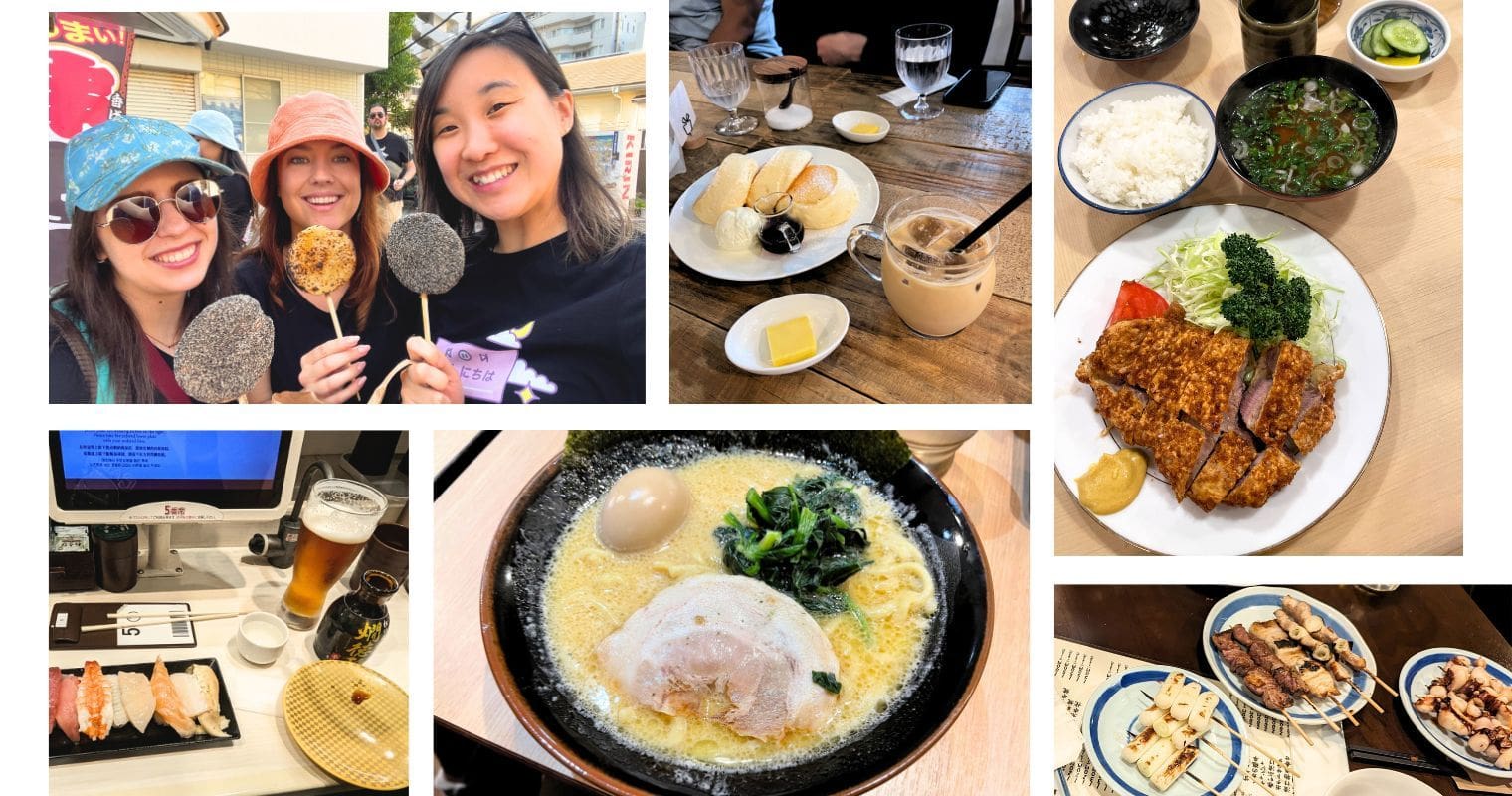 It's bound to happen: with such a large group, people can get lost and separated. During our team outings, that happened a few times. Don't worry – we all found each other in the end!
We came up with an idea for next time – ask people to pair up. This way, if someone's lost, at least they're not alone.
You can swap buddies each day too – just to mix it up. We'll try it next time and will report back!
Working
As always, these team retreats are centered around team collaboration. We had several very productive meetings and brainstorming sessions. Anyone could create and lead a meeting too.
We talked about:
The future of Canny
Product specifics and direction
Pricing
Operations
Marketing
And more
Important: we made sure that each meeting had an owner. It's easy to get lost in brainstorming and not assign any action items. So we did our best to prevent it.
We also created lots of content, taking advantage of being in such an awesome and unfamiliar place.
Lessons
This trip was a truly amazing and one-of-a-kind experience. Everyone took away something unique and special for them. Here are some of the learnings from this trip:
Plan in advance, as much as possible
Don't assume anything – research all prices, accommodations, and unique quirks about your destination
Involve team members and plan together
Be flexible and ready for plans to change
Be ready to split into smaller groups
Have an open mind and encourage every team member to do the same
Rest, try to avoid FOMO, and enjoy
One thing's for sure: we're all still in awe of Japan and our team. We're now extra-motivated to work hard and bring our ideas to life. And, of course, we're looking forward to our next adventure together.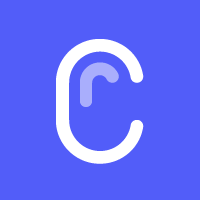 Canny
is a user feedback tool. We help software companies track feedback to build better products.